Bradley Fell Race
Sunday 13th September 2020 CANCELLED
Latest News
unfortunately due to the COVID-19 outbreak it has not been possible to hold Bradley fell Race this year. I will update the site with details of the 2021 race once they have been finalised.
Regards, Tim Done
Race Organiser
2019 Results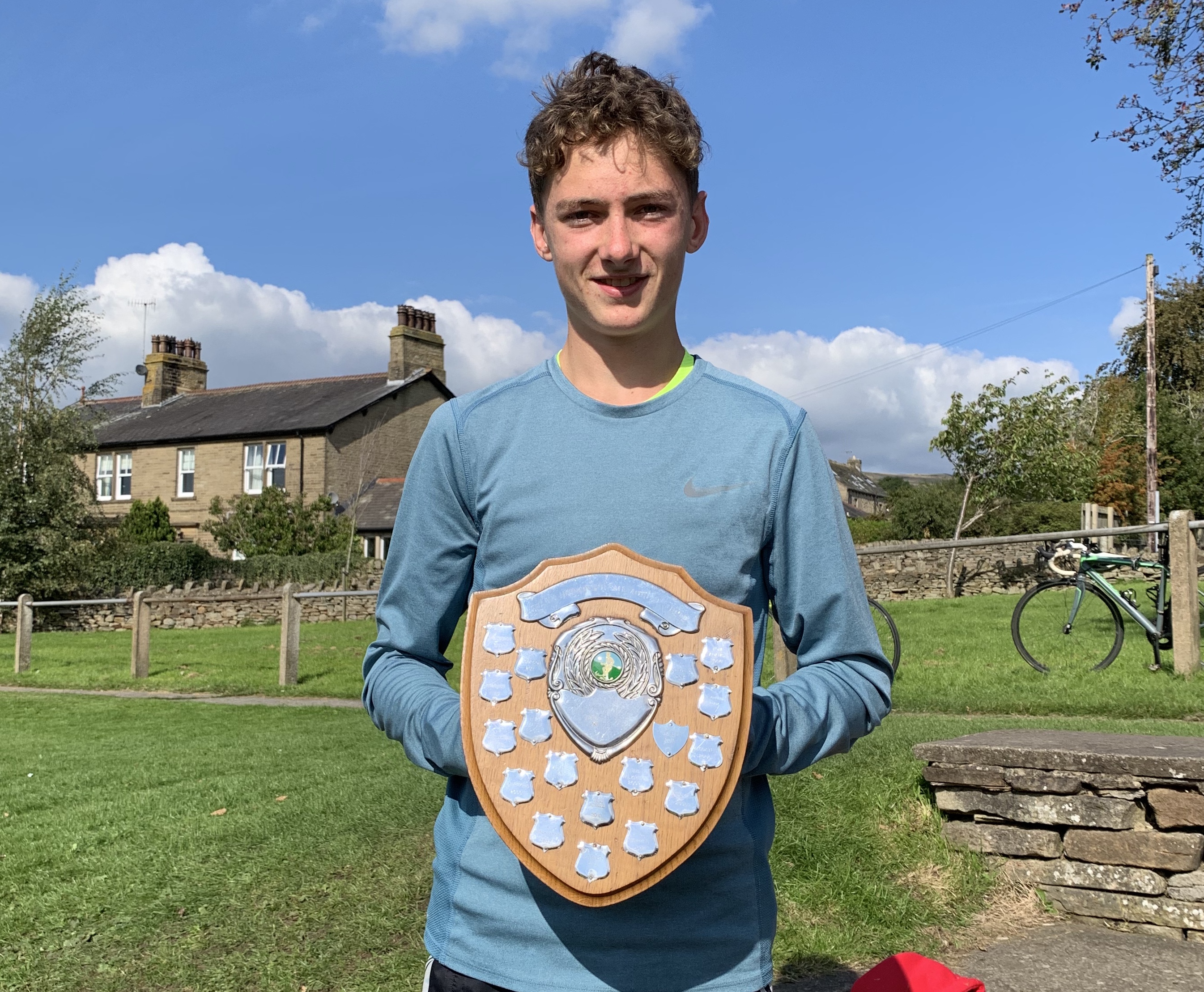 Despite Bradley show being cancelled and other matters threatening the ability to host Bradley Fell Race this year, everyone pulled together to put on a great day of racing: BOFRA members helped out with registration and timing; marshals came forward to stand on the dreaded road crossings and distant fell turn points; the canal trust provided a safe route through their site in the bottom car park; local farmers gave access to their land for the race and provided free parking; the local church came forward to put on teas and refreshments; and the sun shone!
Most importantly, fell runners came from far and wide to support the race. There was a great laid back atmosphere and the races went like clockwork.
The crowning glory was an incredible run from 18 year old Joe Hudson of Keighley and Craven AC, who despite a string of international runners claiming victory in previous years, stormed in to win the senior men's race in a record time of 23:07, knocking 10 seconds off the record set in 2013. His run was complemented by victories by dad Robert in the MV50 category and mum Sharon in the LV50 category.
Second man was Ian Beresford of Barlick Fell Runners in 25:33 and third was Michael Maylon of Baildon Runners. First local was Andy Berry of Ribble Valley Harriers in 27:33
The day almost saw a double record set, with Katie Walshaw from Holmfirth Harriers winning the ladies race in 26:51, just 1 second outside the existing ladies' record, with Holly Page from Calder Valley in second and Sarah O'Sullivan from Keighley & Craven AC in third.
Full results can be found here
-----------
Bradley show cancelled but race to go ahead as planned
Due to circumstances outside my control, the organisers of Bradley Show (which takes place alongside Bradley Fell Race) have cancelled the show for 2019.
The fell race is organised independently and after consultation with colleagues at BOFRA, it has been decided that the fell race WILL GO AHEAD AS PLANNED, keeping the same timings as publicised.
Also, the Canal Trust is carrying out some works on the canal and will be using the small car park at the bottom of the show field to park their machinery. They have agreed to cordon a path through the car park so that the race route will be unaffected and we have contingencies in place to move the start and finish point if it is considered that any machinery parked in the car park will create a hazard. This will be determined once the works commence in the coming weeks. Further information will be updated here
Parking has been secured for the event in the field opposite the show field. There may be a nominal fee to be paid to the owner upon entry. Please use the car park provided and do not park on any of the main access roads, particularly Ings Road between the canal and Matthew Lane (as is causes an obstruction), nor on the kerbs or verges on Ings drive.
I look forward to seeing you there on the day.
Regards, Tim Done
Race Organiser
2018 Results
The 2018 race results can be found here
Thank you for everyone who turned up to provide help at this year's race, some changing their plans at last minute to mark out the course. As always, your assistance is greatly appreciated.
For those who turned up to run, despite a very mixed forecast, I hope that you had a great race and enjoyed the day.
Sometimes when you are forced to step back and allow someone else to help, you get improvements. In this case the race route was flagged along the old course giving a route choice at the gate above the under 17s turn. For the last few years I have directed everyone around a marginally longer, but more runnable ascent to the climb in the top field. So what did you think about having the route option again? Let me know and I may leave the option open again for next year.
A full race report and photos will be provided in due course. If you want to be kept up to date with results and other race related information, then don't forget to add you email to the mailing list below. Your details are not shared with anyone and you'll only get a few relevant emails a year.
Thanks for your support, I look forward to a hopefully drier event next year.
Change of show and race date
From 2018 Bradley Show and Fell Race will take place on the second Sunday in September. This is to allow greater involvement from the village school by holding the Show after the school holidays.
General Data Protection Regulations
There has been much in the press about the new European General Data Protection Regulations and what this means for data held by the organisations about individuals.
Registration data at this race is held purely for the organisation and administration of the race, production of results and contact details in the event of any incident occurring.
Personal information is only held for these purposes. Apart from publication of race results, personal information is NOT shared or made available to anyone and is safely destroyed once its immediate purpose has been fulfilled.
Registration for the race accepts that your details will be included in the race results and your photograph may appear on the website. If you do not wish for this to happen, please let the race organiser know.
You are invited to join our mailing list to receive information about Bradley Fell Race. This is useful in the event of there being any changes to the published information, cancellation of the race etc. Subscribed members will receive infrequent emails with regards to the race and can unsubscribe at any time. Data held for this purpose comprises your name and email address only. You can subscribe to the mailing list below.