Results page
Results
Bradley Fell Race 2019 Results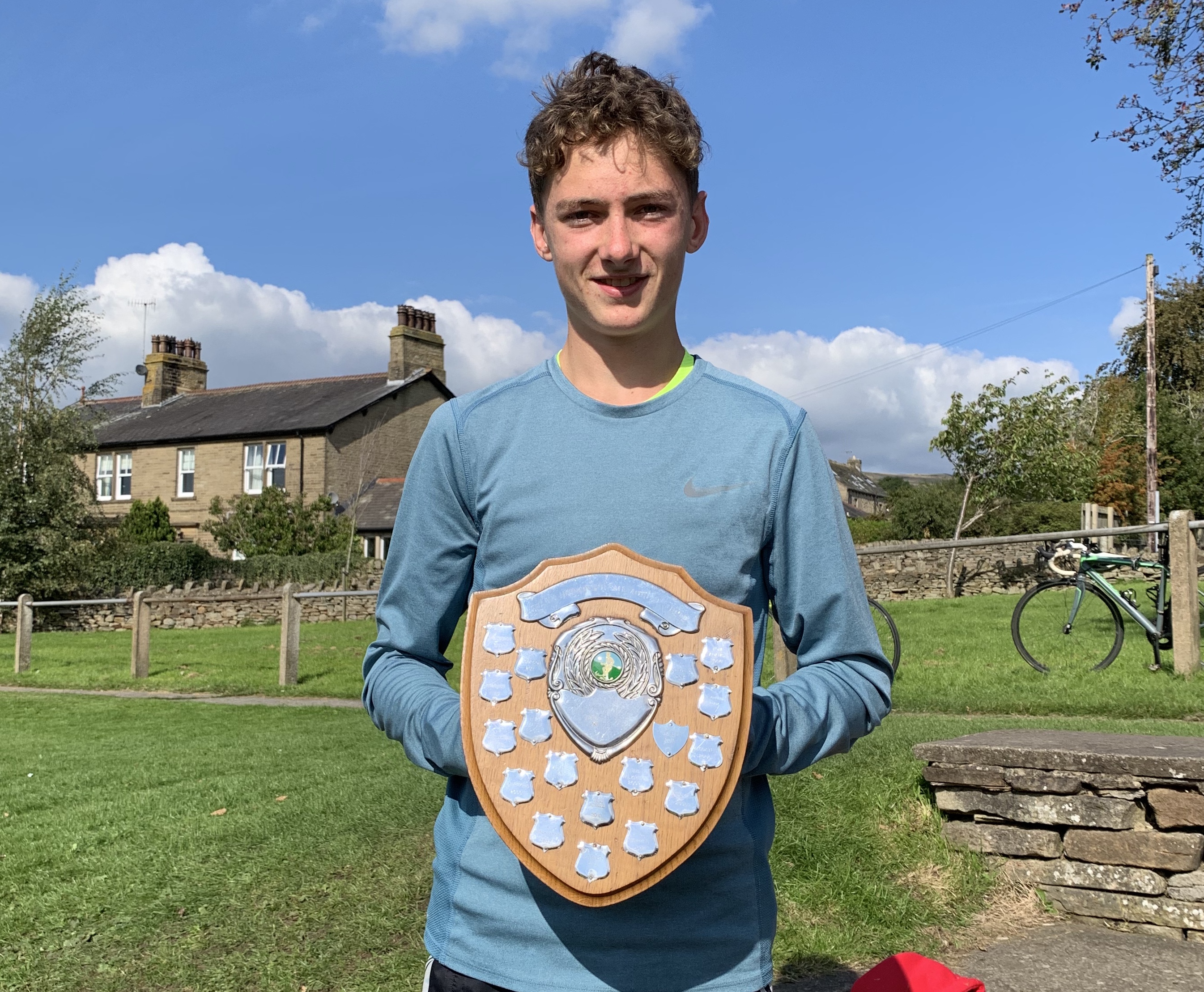 Despite Bradley show being cancelled and other matters threatening the ability to host Bradley Fell Race this year, everyone pulled together to put on a great day of racing: BOFRA members helped out with registration and timing; marshals came forward to stand on the dreaded road crossings and distant fell turn points; the canal trust provided a safe route through their site in the bottom car park; local farmers gave access to their land for the race and provided free parking; the local church came forward to put on teas and refreshments; and the sun shone!
Most importantly, fell runners came from far and wide to support the race. There was a great laid back atmosphere and the races went like clockwork.
The crowning glory was an incredible run from 18 year old Joe Hudson of Keighley and Craven AC, who despite a string of international runners claiming victory in previous years, stormed in to win the senior men's race in a record time of 23:07, knocking 10 seconds off the record set in 2013. His run was complemented by victories by dad Robert in the MV50 category and mum Sharon in the LV50 category.
Second man was Ian Beresford of Barlick Fell Runners in 25:33 and third was Michael Maylon of Baildon Runners. First local was Andy Berry of Ribble Valley Harriers in 27:33
The day almost saw a double record set, with Katie Walshaw from Holmfirth Harriers winning the ladies race in 26:51, just 1 second outside the existing ladies' record, with Holly Page from Calder Valley in second and Sarah O'Sullivan from Keighley & Craven AC in third.
Full results can be found here
Bradley Fell Race 2017 Results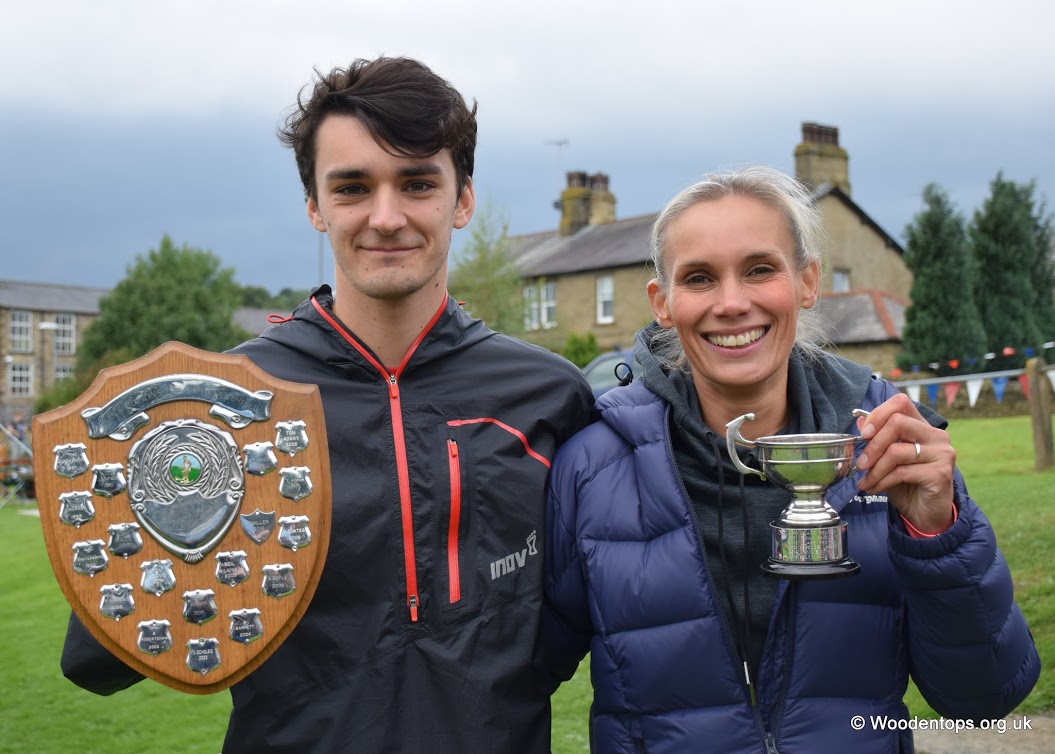 Runners and supporters were treated to near perfect conditions at Bradley Fell Race on Sunday. Thanks to local farmers the fields were freshly mown and footing was particularly good along the whole 3.5 mile course.
75 runners competed in the senior race which included two previous winners; Craig Shearer from Barlick and Chris Miller from Harrogate, however it was Wharfedale Harrier, James Hall who took the initiative on the downhill return section to take the win in 23:34, just 17 seconds outside the course record. Craig Shearer was second and Chris Miller third. Fourth place went to Dave Kirkham from Wharfedale Harriers who took the first MV40 place. 1st MV50 was Matty Barnes, with Harry Atkinson of Bingley Harriers first MV50. First Local man was Shane Beggan of Craven Energy, who completed a local double with his son Finn, who won the trophy for first local U9 Boy. In the Ladies' race, Louisa Powell-Smith of Ribble Valley Harriers was dominant, finishing first and in 11th place overall in 28:15. Second lady was Pippa Barrett from Wharfedale Harriers ahead of Denise Wright of Bingley Harriers who was also first LV40 and first local lady; knocking over a minute off her previous record. Denise's daughter Isabella also won the trophy for first local U9 girl. Sue Marshall from Skipton was first LV50.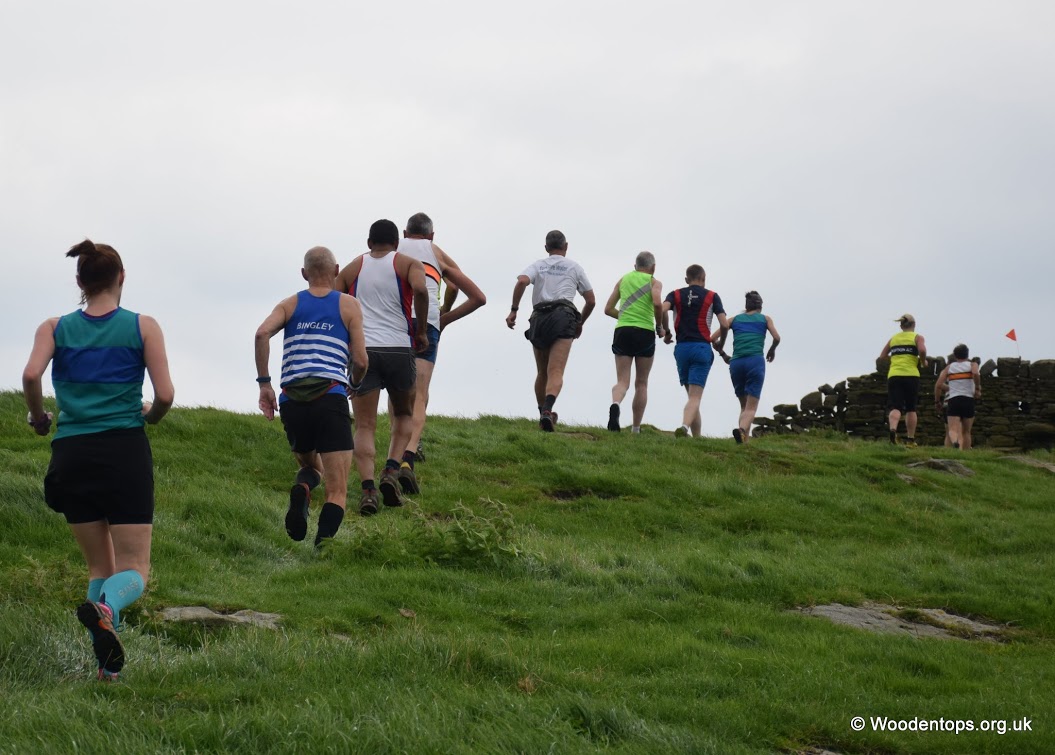 The under 17 race which turns just coupe of fields before the senior turn saw a strong performance from Settle's Sebastion Seggar-Staveley to take first prize in 23:17. In one of the best battles of the day, Logan Hargreaves-Madhas held off is Wharfedale Harriers club mate Jack Muir to secure second place by a metre. Bernadette Raven from Ilkley Harriers was first U17 girl in 25:46 with Bethany Reid from Chorley in second.
The under 14's proved that a strong run in the good conditions could challenge the existing records and Sam Smith from Wharfedale Harriers did just that, finishing in 10:26 beating the 9 year old record set by senior race winner James Hall by 10 seconds. Clubmate Alex Thompson also put in a strong run to finish in second place just 15 seconds outside the old record, with Jack Villiers from Barlick in third. Beth Roberts from Keighley & Craven is the under 9 record holder at Bradley and had a comfortable win over Wharfedaler, Katie Handley, with Emily Reid from Chorley in third.
Thirty Six runners competed in the under 12's race with an exciting finish. Race winner was James Sadler-Townsend from Keighley & Craven in 6:34. There was a battle for second place, with Jonathan Archer from Ilkley Harriers out sprinting his brother Nicholas by just 7 seconds; first girl, Lucy Poole from Chorley just 4 seconds behind. Second girl was Charlotte Rawstron from Otley in 7:09, with Helana White from Clayton 10 seconds behind. First local boy and girl finished just one second apart, with Daniel Ridehalgh from Wharfedale Harriers just ahead of club mate Emily Anderson.
The under 9's saw Alex Sadler-Thompson from Keighley & Craven match his brothers win, finishing in 3:02. There was with a close battle for second place between Charlie Ellison from Trawden, just edging ahead of James Rosser from Wharfedale Harriers. First girl was Lucy Bagot from Settle Harriers in 3:14, closely followed by first local girl; Isabella Wright from Bingley Harriers. Third girl was Bella McCredie from Barlick and first local boy was Finn Beggan.
Thanks go to all of the land owners, marshals, helpers and competitors for making the event possible. For information, it is anticipated that Bradley Show will take place on the second Sunday of September from 2018.
If there are any errors in the results or have any other issues, please drop me a line on the following email:
Website still under construction. Older results are available on the BOFRA website
Results